An Island Oasis in Qatar
Rising next to the Pearl, Discovery Island is a world-class resort and entertainment destination devoted to the wholehearted exploration of our planet's living seas. In addition to world-class entertainment, shopping, dining, and accommodations, it will offer an unprecedented range of ocean going adventures and activities, designed to inspire visitors of all ages with a passion for the ocean and the life within it. From lounging on the beach, to snorkeling and cave diving, to face-to-face encounters with ocean predators, Discovery Island offers guests every imaginable aquatic experience, real and digital. Starting from an authentic desert oasis, guests enter breath-taking biomes,including florid rainforests with their surging river torrents, lands locked in arctic ice, and sunless caverns deep below the waves, where you'll meet strange, luminous creatures that never see the light of day.Inspired by the graceful forms of shells and sleek ocean rays, the resort's all-white architecture is all sweeping curves and smooth organic shapes, punctuated by lush gardens, tumbling waterfalls and service towers as delicate as lace like coral. The design andexecution represent the perfect marriage of sustainable, natural materials and stunning hi-tech design.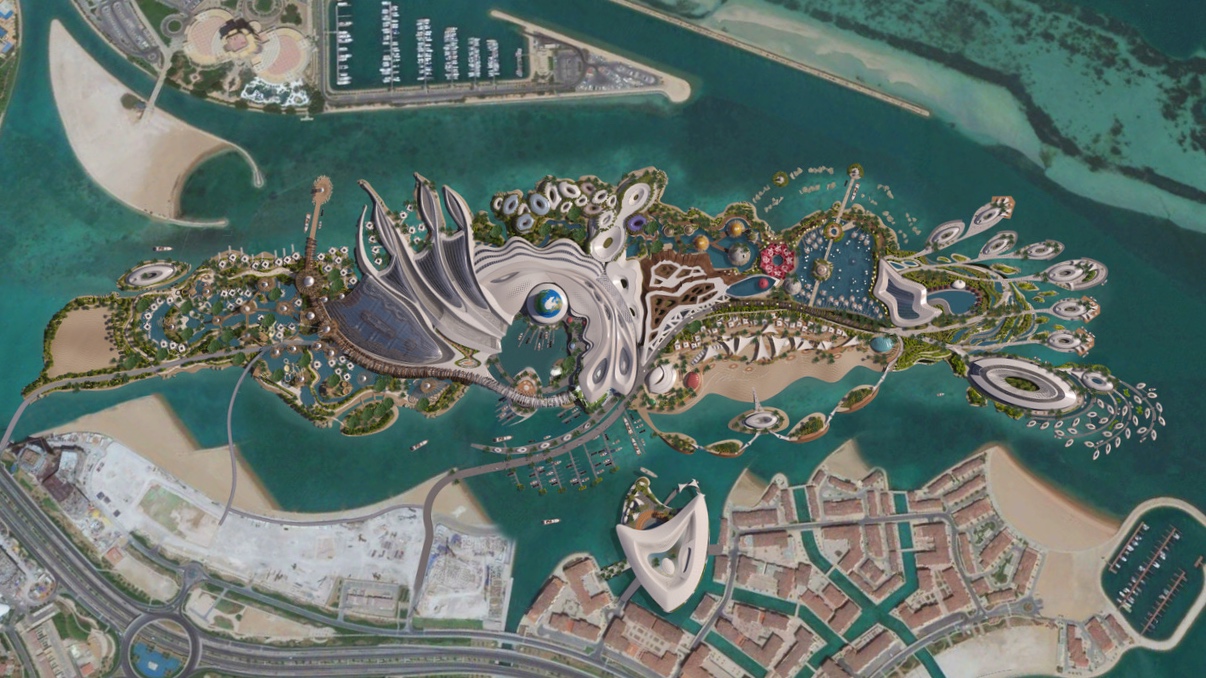 Golden Adventures in China
Rising from the valley floor in the heart of a beautiful mountainous area, the Golden Adventure complex is a world-class resort and entertainment destination devoted to the wholehearted exploration of our planet's multiple adventure destinations. In addition to world-class entertainment, shopping, dining, and sumptuous accommodations, it will offer an unprecedented range of attractions, adventures and activities. It is designed to inspire visitors of all ages with a passion for excitement and family fun.
Inspired by the graceful hills and surrounding mountains, the complex's beautiful domed environments are striking in architectural design. Their sweeping curves and smooth organic shapes, punctuated by lush gardens, tumbling waterfalls and service towers as delicate as lace-like coral are the perfect marriage of sustainable, natural materials and stunning hi-tech design.
From lounging on the beach, snorkeling and cave diving to boat adventures down the Amazon river, the resort offers guests every imaginable experience real and virtual. It's all set in vivid recreations of the landscapes dominated by the great rivers and oceans of the world that include rainforests with their surging river torrents, villages locked in snow ice and forgotten islands where Monsters and Dinosaurs roam free… the Golden Adventure Resort will be unique among all the family destinations in the world. A place for families to enjoy exploring creatively themed environments, ride exciting new attractions, and experience entertaining shows and performances.
.
The Hollywood Park Urban Resort
This 7.11-acre Nvision project is designed to complement the stadium development as a destination resort and features approximately 1000 hotel rooms in two structures, 100,000 square feet of meeting space, 50,000 square feet of retail space and a unique outdoor entertainment venue comprised of 85 "party villas" surrounding a one-acre performance deck intended for A-list entertainment. The resort will also include rooftop terraces and nightclubs, a spa and fitness center, Zen gardens, restaurants and other retail. The project site is directly across the street from the Stadium at the southwest corner of the property. A direct connection with the Stadium property could be made via a pedestrian bridge over Century Blvd. The property is approximately 2.8 miles from Los Angeles International Airport. The project is positioned as a resort/entertainment hotel designed to attract national and international visitors as well as the local southern California "staycation" market
Location: Inglewood, California. An Nvision Development Group Project
Calypso Family Entertainment Center
The heart and soul of Seef Lusail is the Club Discovery Qatar (CDQ), a 108,000 sf (10,034 sm) "edutainment" center that entertains, engages, and enlightens guests while celebrating curiosity, exploration, and the human spirit. The attraction begins with the exterior architecture. Imagined as a leviathan like creature of ribbon, it appears to have climbed from the water to nest on the coast, its tentacles still reaching out into the sea, its translucent, "breathing" (ETFE) skin that teases with glimpses inside. The building is unique that its exterior shell and interior floor plates are entirely independent structures. As if drawn in by an irresistible gravitational pull, guests approach Club Discovery from all points: via the waterfront promenade, on a climate-controlled bridge from the retail mall, at the valet drop-off, or from the underground parking structure. The interior program includes aquariums, theaters, camping, waterfalls, rock climbing, exhibits, rides, animals and insects, interactive programming, kinetics water features, the LED panels, the incorporation of living green walls, the building's
Location: Lusail, Qatar. Scale: 18,000 Square Meters.
Hangzhou Bay Preview Center and Museum
The 4000 m2 Hangzhou Bay Preview Center, Designed by Nvision, is the largest regional presentation and sales center north of Shanghai. Designed to integrate into its shoreline location, its unique architecture stands as a hallmark for the modern city under construction around it. The building is unique that its exterior shell and interior floor plates are entirely independent structures. The iconic structure will be programmed as a regional art museum and cultural center as the city is completed. The building is currently under construction.
Location: Hangzhou Bay, China. Scale: 9,027 Square Meters In partnership with: China Holiday Group and VisionMaker
Morrison House of Music/ Hard Rock Hotel
The Morrison Hotel & Amphitheatre project is located in downtown Los Angeles at 1246 S. Hope St. The original hotel, the site of the infamous photo session for musical group 'The Doors', was built in 1914 and has been shuttered since 2005.
This project preserves the historic building and renovates the interior into 40 entertainment/party suites that open onto a common courtyard performance Amphitheatre complete with state-of-the-art staging and lighting, seating for 1,500 attendees and a club level with additional bars and seating. The rooftop will accommodate an entertainment lounge and additional concert viewing. The hotel will also feature an authentic renovation of the room where Jim Morrison and The doors shot the album cover for their Morrison Hotel album in December of 1969. The venue's total capacity is approximately 2,800.
Adjacent to the amphitheater will be a new 20-story mixed-use hotel structure with 209 hotel rooms, 87 luxury condos, 45 workforce housing units, and 30,000 square feet of ground floor and lower level retail including restaurants and food courts. This hotel could possibly be operated as a Hard Rock Hotel franchise; coming full-circle from its roots as 'The Doors' hangout spot after the photo shoot at the Morrison Hotel. The roof will feature a unique 2-story, glass-enclosed 1,000-seat performance space plus a 10,000 square foot restaurant/event space that will be leased to an independent operator. The building will contain 50,000 square feet of meeting space as well as a gym and spa. An underground parking structure with a capacity of 400 vehicles will be located beneath the tower.
Location: Los Angeles, California, USA. Scale: 38,000 Square Meters An Nvision Development Group Project
BETHUNECENTER
The Bethune Center will be unique.
Its carefully considered program, incorporating affordable high-quality housing, urban farming, integrated educational technology innovations, and healthy lifestyle amenities will establish it as a new model for urban living.
The residential and public spaces are generous and well appointed. Options for dining, exercise, group activity, shopping, and education are easily within reach.
The contemporary, green, and colorful Architectural styling will be unique for this area. Its design features are intended to establish a warm, safe, comfortable environment within which to create a home. The terraced ground level features will host a playful landscape of public activation spaces (for performances and public markets), gardens, seating, dining, and shaded areas. The rooftops upper level terraces offering similar amenities but also include safe and secure play areas for children, grassy lawns, family/group event and gathering spaces for entertainment and dining, outdoor kitchens, a rooftop lounge with fireplaces (and views across the city), and public/private gardens including aeroponic and hydroponic farming, producing literally tons of fresh fruits and Vegetables annually.
Additionally the Bethune center will create an opportunity for the LACI to educate by implementing the latest green tech solutions into the core of the development. The community will integrate green water conscious planting, Solar collectors, Urban Farming, eco-conscious air conditioning systems, Integrated shade and well designed hardscape/landscape to manage heat retention.
Introducing a new culture to the MARVEL UNIVERSE
The Marvel Universe is a cultural phenomenon. It engages the young and old, the adventurous and romantic alike. So many characters, worlds, and causes, there is something for everyone. When Disney decided to bring the marvel universe to life in Shanghai, they realized that the Marvel was relatively new to the chinese culture. So they decided a "Primer" was in order. Nvision was fortunate enough to partner with our incredibly talented friends over at Kreate! Together we created, designed and built an experience that was more than up to the task. It opened in Shanghai in 2016, bringing the Marvel Universe into the lives of visitors daily.
Location: Shanghai, China. In association with: Disney and Kreate
JP Morgan/Chase Brand Design and Implementation
Over the past several years, Nvision had the opportunity to develop a great relationship with branding teams at Chase. We have worked side by side on several successful projects. From Executive brand suites, to lounges, ATMs, and sponsorship packages. From the concept design, to execution and installation each project was on time and in budget. We look forward to every challenge they share with us and have confidence that each project will be better than the last as we strive to impart the Chase Experience to its members.
Location: Various locations nationwide.
One World Observatory
A project for New York City, In association with the Hettema Group and Legends Inc.
Every so often we have the honor and privilege to work with other creative companies and teams. the Hettema Group, led by Phil Hettema, is exceptional.
Upon winning a national competition for the design of the newly build trade centers observation decks, Nvision continued as part of the Hettema team to concept design all aspects of the project, integrating the innovative features into the new structure.
One World Observatory is a state-of-the-art guest experience that will elevate the One World Trade Center observation deck from a spectacular sightseeing opportunity to an inspirational personal journey. A series of cutting-edge multimedia presentations and exhibits will immerse guests in an uplifting tribute to the new World Trade Center as a global nexus of 21st-century commerce, culture, and community set in the heart of the most dynamic international city in the world.
Nationally renowned Legends operates the observation deck atop the tallest building in the Western Hemisphere at a height of 1776 feet. Construction on the facility began in early 2014, and opened May 29, 2015, One World Observatory will provide millions of visitors with the ultimate observatory deck experience on floors 100, 101 and 102
Location: New York, NY. USA. In association with: Legends and The Hettema Group
Intangible Culture Center
This 257,271 m2 mixed -use development features a 400 room Langham Hotel, Conference Center, Luxury Retail Mall, Museum, Event Plaza, Observation Tower, and Festival Gardens. It is part of a larger masterplan celebrating the elements of intangible culture. Music, Dance, Poetry and other performance arts are showcased throughout the venues. The Nvision team created the masterplan, architecture, design, Landscape, hardscape, and interiors. The entirety of the complex was completed in 2011 and hosted Chinas first Intangible Culture Festival.
Location: Chengdu, China. In partnership with: Zhixing Group and Hetzel Design
Wuxi Studios
Formerly the site of Xuelang Steel Mill, Wuxi Studios is a prime example of adaptive reuse. After renovation, it now serves as a world-class film production facility for Wuxi, a coastal city of Jiangsu, China. Wuxi Film Studio nicknamed "Chinawood Studios", is a careful integration of commercial film technology with a leisure destination that creates a "movie city" featuring an entertainment district, retail, dining and a multiple-screen cinema along with other cinema technology-based attractions. The 180,000 m2 film production studios features state of the art facilities, as well as the world's largest sound stage. For this complex project, Nvision assembled a program and conceptual design for the main facility, branding, its retail & entertainment destinations, creative work-live lofts, attractions and public areas. Opened in June of 2012, it is expected that more than 30 films will be released annually in Jiangsu utilizing these full-service global production facilities. The facility is now being operated by the California Based Raleigh Studios.
Location: Wuxi, Jiangsu, China • Scale: 6,000,000 Square Meters • In partnership with: Wuxi Film Studios
Hollywood's Farm Boy Kitchen
Farmboy Kitchen is ready to feed you. It does so in an Nvision created open-air dining room outfitted with slick concrete floors, handmade wood tables, stark white subway tiles, reclaimed wood, and design craftsmanship, the perfect setting for a roster of dishes that are at once complex creations and comfort food. Central in the heart of hollywood, Farm Boy Kitchen begins a revitalization effort, energizing an, out of date, retail center with crisp fresh design and delicious, nutritious food.
Chef Hunter Fox puts his farm upbringing to work in crafting a menu with enough variation to keep guests coming back week after week, or perhaps even more frequently. Fresh, local ingredients are stars of the menu, skillfully showcased in hearty sandwiches, sizeable salads and side dishes that skirt the line between grandma's down-home cooking and classic California cuisine.
The Farm Boy Restaurant opened it doors in 2016. The food is amazing, the Chef a little off his rocker, but brilliant. A local businessman in Los Angeles, opening a restaurant had been his dream most of his life. His vision was simple: Serve delicious satisfying wholesome food in a comfortable homelike setting. Once he signed his lease we began to work together with him and other talented associates anxious to help him realize his dream.
Location: Hollywood CA, USA. Scale: 620 Square Meters An Nvision Development Group Project with Chef Hunter Fox
What do you get when you combine a Dog Park with a Beer Garden? BARK!
Bark Park is a revolutionary new concept in dog parks combining extensively themed play areas and dog care facilities with a casual, open-air brewery café. Situated on a one-acre footprint, the concept draws on the need to provide dog walking facilities, regular exercise, and recreation for pets and enhances the experience by featuring a social aspect that brings dogs, their owners and other dog lovers together.
Featuring casual dining, a full line of micro-brewed beers and a select wine list, Bark Park provides dog owners the ability to socialize and network with other dog owners while allowing their pets to enjoy a local green space which is essential to raising well-balanced pets. Park attendants patrol the play areas providing supervisory and sanitation support. In addition to the recreational and social aspect of Bark Park the concept also provides day care and long-term boarding facilities.
Participation is membership-based with owners having the ability to secure daily, monthly or annual memberships for their dogs. While dogs are allowed in limited areas of the café while on leash, the park provides many areas for dogs to roam off-leash while their owners relax with cocktails, a snack, or conversation at the Brewery Café.
Bark Park was conceived and designed to stimulate community participation and as such provides a valuable amenity to its hosting community at large. Year-round special events such as dog adoption fairs, vaccination drives and lost-and-found services can help to organize and monitor local dog populations.
Location: In Development, Los Angeles CA. USA. Scale: 4,050 Square Meters. An Nvision Development Group Project
Bark House
The Bark House sits upon a stepped, terraced hill. Despite its warm friendly feel, it is distinctly industrial in design. Simple concrete floors, picnic tables, roll up garage style doors and a wrap around bar counter. A great place to hang out and sip a coffee or enjoy a cold beer, you and your best friend (and other friends) can visit, watch a game, or sit out on the terrace with a view out over the park, launching tennis balls out into the fray.
1.5 acres park
The park is programmed with hills, waterways, climbing and play areas, pathways and an abundance of trees and greenery. Elevated planters protect the more delicate greenery and a specially designer irritations system keeps the grass (real and artificial) clean and free of odor.
Terraces
The elevated terracing creates levels of green space, seating, waterfalls, and an overview out on the park. Outdoor seating is dog proofed and comfortable. Fireplaces are designed on the outer deck is cooler climates.